Dubai, UAE – DATE: October 16 to 20 – Jimi IoT, a leading name in the world of IoT solutions, is thrilled to extend an invitation to tech enthusiasts and industry experts to visit our booth at GITEX GLOBAL 2023, the world's largest tech show. Our booth (Booth D20, H20) will be set up at the prestigious Dubai World Trade Center.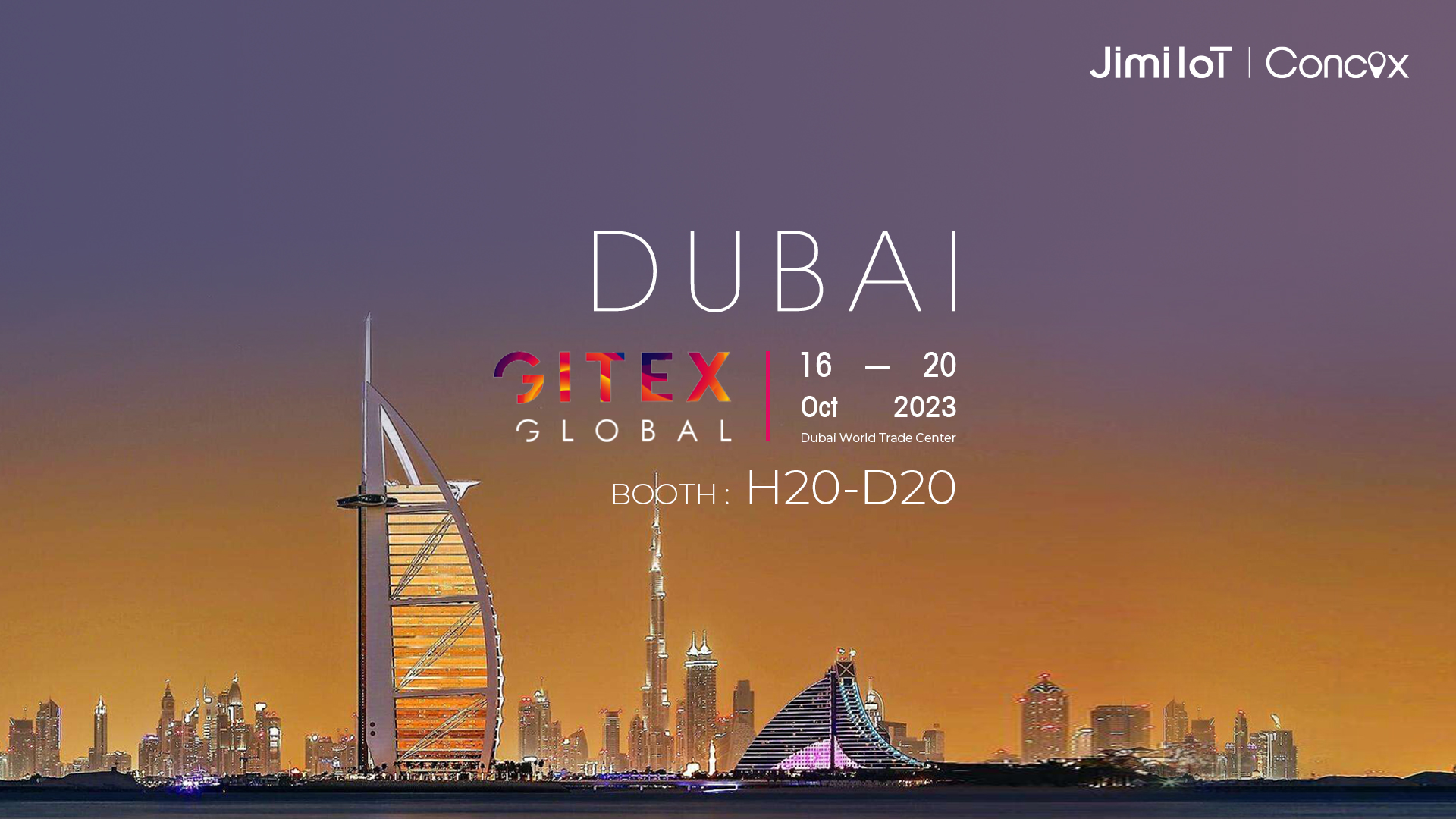 Discover Cutting-Edge Solutions
This year, we are proud to showcase four innovative solutions that address the ever-evolving needs of businesses worldwide:
Fleet Telematics: Our hardwired trackers, including VL802 and VL103, are designed to collect diverse data from trucks, buses, and motorcycles. These trackers generate comprehensive reports that empower your company to optimize operations, enhance efficiency, and reduce your carbon footprint.
Asset Telematics: Explore our attach-and-go asset trackers such as LL303, LL702, and LG300, which offer effortless installation on trucks, vans, equipment, and containers. These devices provide real-time monitoring of cargo and equipment status, ensuring you have complete control.
Video Telematics: Our dual- and multi-channel dashcams, including JC450, JC261, and JC181, offer unparalleled visibility into your fleet vehicles, cargo, and drivers. This technology helps to mitigate false claims, improve driver behavior, and prioritize personal safety.
Global Connectivity: Jimi IoT's global SIM card delivers reliable connectivity in over 200 countries, eliminating the need for frequent SIM card changes for cross-border operations. Additionally, our connectivity management platform simplifies the management of all your IoT cards.
Explore More at GITEX GLOBAL 2023
Apart from these featured solutions, we will have an array of products and services on display at GITEX GLOBAL 2023. Our team of experts will be available to answer your queries and provide insights into how our IoT solutions can benefit your business.
Get Your Visitor Pass
Don't miss this opportunity to witness the future of IoT technology and how it can transform your business. Feel free to contact your account manager for a promo code that will grant you access to GITEX GLOBAL 2023.
Join us at Booth D20, H20, Dubai World Trade Center, and be part of the IoT revolution.
About Jimi IoT
Jimi IoT is a globally recognized leader in providing innovative IoT solutions. With a focus on cutting-edge hardware and software, we empower businesses to optimize their operations and gain valuable insights through data-driven analytics. Our comprehensive range of products includes GPS tracking devices, asset management solutions, telematics platforms, and much more.