Hong Kong, China – Date: October 11 to 14 – Jimi IoT & Concox, a leading name in the IoT industry, extends an enthusiastic invitation to industry experts, partners, and tech enthusiasts to visit our booth at the Global Sources Consumer Electronics Show 2023. You can find us at Booth 5H24, AsiaWorld-Expo, Hong Kong, China. Your presence will undoubtedly enhance our exhibition.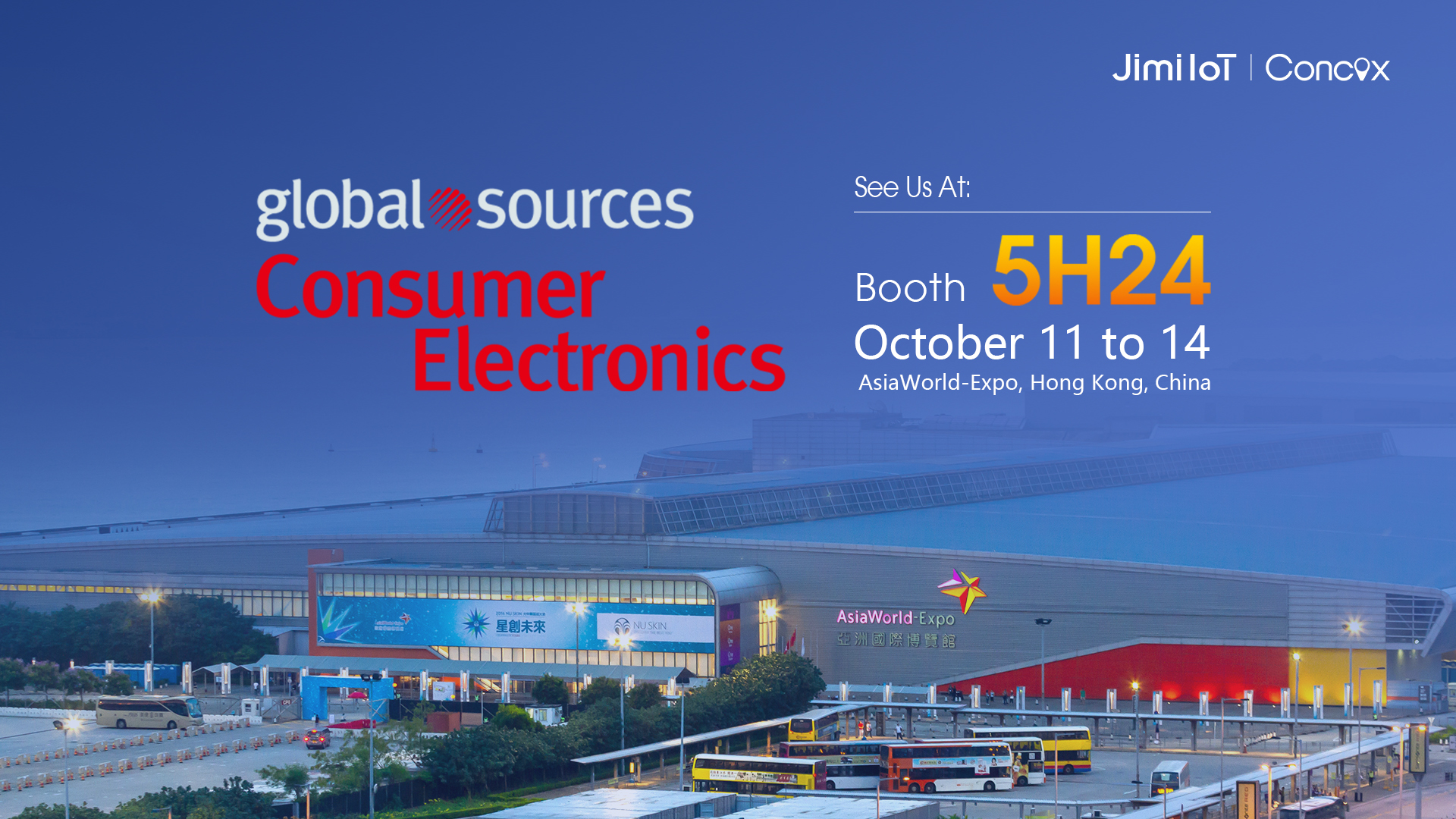 As pioneers in the IoT industry, we are thrilled to present four innovative solutions, along with our latest products:
Fleet Telematics: Revolutionize your fleet's operations, efficiency, and sustainability with our hardwired trackers, including VL802, VL103, and the groundbreaking INS-enabled dual-band GPS tracker VL101G. These devices empower your company to harness diverse vehicle data for informed decision-making.
Asset Telematics: Effortlessly monitor cargo, including perishables, in trucks, vans, containers, and equipment with our attach-and-go asset trackers. Explore the recently upgraded LL303 and the LG300, offering real-time monitoring and control.
Video Telematics: Enhance safety and reduce false claims by leveraging the unmatched visibility provided by our range of dashcams. The 5CH JC450, 2CH JC261 series, and JC181 dashcams offer comprehensive insight into vehicles, loads, and driver behavior.
Global Connectivity: Simplify cross-border fleet operations with Jimi IoT's global SIM card, offering seamless connectivity across 200+ countries. Eliminate the need for frequent SIM card changes and manage all your IoT cards effortlessly on our dedicated connectivity management platform.
Explore a World of Possibilities
Our booth at the Global Sources Consumer Electronics Show 2023 will feature a wide array of products and solutions designed to transform your business. Our knowledgeable team will be on hand to provide insights and answer any questions you may have.
Event Details:
Global Resources Consumer Electronics 2023
Date: October 11 to 14
Booth: 5H24
Venue: AsiaWorld-Expo, Hong Kong, China
About Jimi IoT
Jimi IoT is a globally recognized leader in providing innovative IoT solutions. With a focus on cutting-edge hardware and software, we empower businesses to optimize their operations and gain valuable insights through data-driven analytics. Our comprehensive range of products includes GPS tracking devices, asset management solutions, telematics platforms, and much more.