Jimi VG502, the easy-to-install OBDII GPS tracker, is the perfect solution for fleet management and private use. Designed with the needs of company/official cars and private cars in mind, this device is also ideal for usage-based insurance.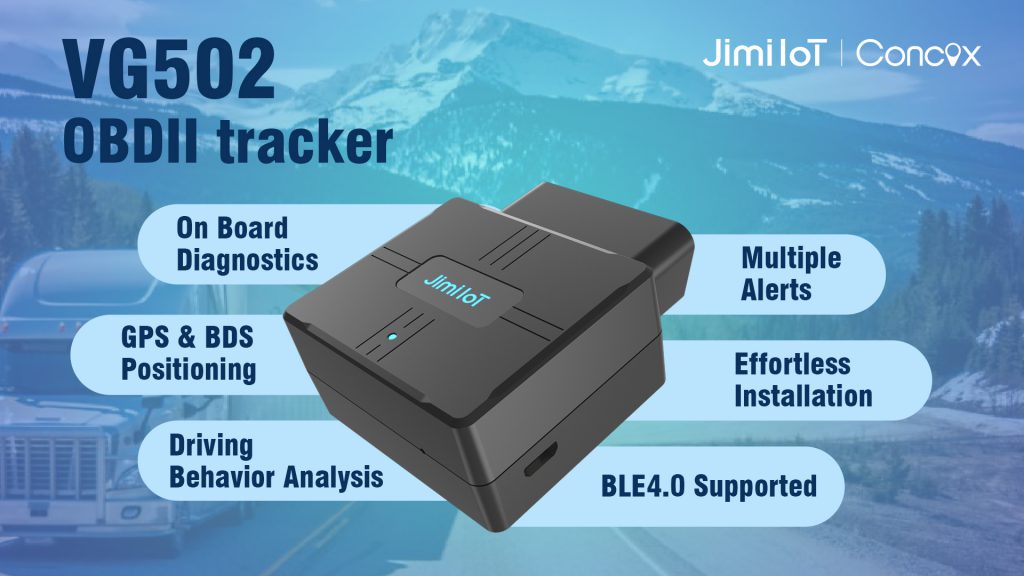 With the latest on-board diagnostics, the VG502 provides accurate real-time monitoring of vehicles' status, making it easier for fleet managers to keep track of their vehicles. The device is equipped with GPS and BDS positioning systems, ensuring that you always know where your vehicles are.
Jimi VG502's driving behavior analysis (DBA) is based on UBI-based algorithm, which accurately analyzes 4 different types of dangerous driving behavior. This feature provides an all-around monitoring of your vehicle, ensuring your safety on the road.
The VG502 is equipped with multiple alerts, which are triggered by events such as overspeeding, harsh braking, and sharp turns. This feature helps you stay alert in case of any potential danger, ensuring that you and your vehicle are always safe.
The device is effortless to install, and its BLE4.0 support makes it easy to connect with other devices. With the VG502, you can monitor your vehicles in real-time, anywhere, anytime.
In conclusion, the Jimi VG502 is the ultimate GPS tracker for fleet management and private use. Its advanced features, such as on-board diagnostics, driving behavior analysis, and multiple alerts, make it a reliable and cost-effective solution for anyone looking to keep their vehicles safe and secure.
About Us
Jimi loT aims to provide customers with innovative, mutually beneficial, safe, and efficient international intelligent hardware and IoT solutions. At present, our products have been sold to more than 130 countries, with an annual shipment of 6 million units. The volume reaches 10 million units, and we have set up service centers and marketing centers in many countries to provide customized services for the local market and build an international marketing and service network covering the world. Jimi loT shoulders the mission of "making connections easier", and is constantly striving to realize the vision of becoming a continuous leader in IoT enterprises.